Monumenta Taiwanica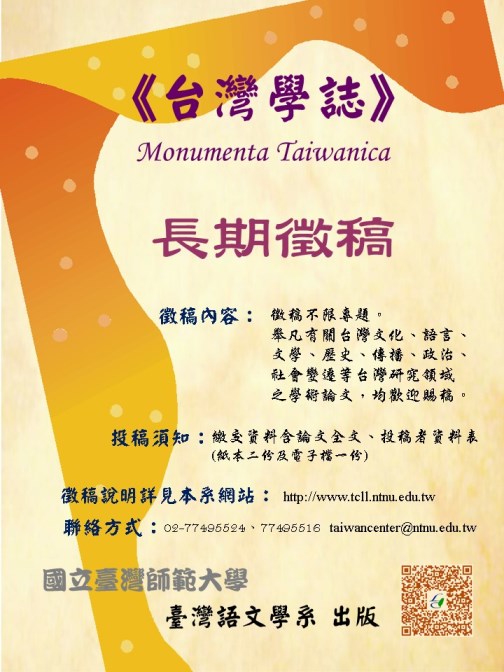 Monumenta Taiwanica is an annual journal published by the Department of Taiwan Culture, Languages and Literature of National Taiwan Normal University. Submissions of academic papers regarding Taiwan culture, languages, literature, history, communications, politics, and social change, regardless they are in Chinese, Taiwanese, English or Japanese, are all welcomed. The Journal especially looks forward to seeing transdisciplinary papers of the aforementioned fields. With the rapid change of time and space in Taiwan, we encourage innovative researches and creative approaches so that we can engage in academic dialogues and establish theories of Taiwan studies.
Monumenta Taiwanica is currently included in database such as Taiwan Citation Index - Humanities and Social Sciences (TCI-HSS), Airiti Library, Taiwan Academic Online, Lawdata, HyRead Journal and Taiwan Journals Search. It is circulated in over 200 college libraries and public libraries, and has been a regular collection for UCSB in the US, University of Alberta in Canada, Free University of Berlin & Ruhr-Universität Bochum in Germany, the Czech Academy of Science, and the National Library of China in China.

Paper Types
Research Articles: Academic articles that have not been published in journals or other publications and websites at home or abroad.
Theme Articles: Academic articles on special issues planned by the Editorial Committee.
Book Reviews: Reviews regarding recent publications of Taiwan culture, languages, literature, etc.
Reports: Columns on the latest research where the Editorial Committee invites scholars and experts to share.

General Information

Publisher: Department of Taiwan Culture, Languages and Literature (TCLL), National Taiwan Normal University
First Issue: April 2010
Periodicity: Annual
ISSN: 2219-2204
GPN: 2009901240
DOI: 10.6242/twnica