Following the ROC Ministry of Education (MOE) adoption of a nativist stance toward Taiwan studies, in February 2002, Professor Chuang Wan-shou (莊萬壽), together with Professor Yao Rong-song (姚榮松) and Professor Hsu Chun-ya (許俊雅) drafted a proposal for the establishment of the predecessor of the Department, "the Graduate Institute of Taiwan Culture, Languages and Literature." Permission of the Master's program was granted in July of the same year, and the Graduate Institute was inaugurated in August 2003. Later on, an In-Service Master's program began in 2006 in order to nurture specialists both in Taiwan studies and mother tongue education. In 2008, a Ph.D. program was created to further advance the field of Taiwan studies. Moreover, student admissions for the undergraduate program began in 2011. At the same time, the Ph.D. program, the Master's program, the In-service and the undergraduate programs were integrated under the Department of Taiwan Culture, Languages and Literature. It is hoped that the Department can nurture new talents in Taiwan studies from a wide range of educational level.
The Department is the first department ever founded in Taiwan devoted to an integrated study of Taiwan culture, languages and literature. Together with applied programs on language/communication and cultural/creative industries, the Department provides students with alternative courses to foster diverse and interdisciplinary research perspectives on Taiwan studies.
With sufficient programs from bachelor's degree to master´s & Ph.D. degrees, the Department is currently one of the most distinctive institutes dedicated to both teaching and research areas. Moreover, the Department promotes researches on Taiwan studies continuously through a wide range of academic activities, such as organizing lectures and conferences, conducting academic projects and international cooperations. With the release of its academic journal, Monumenta Taiwanica, and the cooperation with the International Taiwan Studies Center at College of Liberal Arts, the Department is committed to a balance of localization with internationalization, theory with practice, and tradition with innovation, aiming to lead a forward-looking trend on Taiwan studies.
Provided with these research resources and programs of international and interdisciplinary perspectives, students are expected to gain both general and specific knowledge and skills, which, on the one hand, can equip them for advanced studies, and on the other hand, can be applied to promote Taiwan's nativist education and cultural construction. It is hoped that with these endeavors, graduates of the Department can put their expertise into practice and contribute to society.

For Graduate Students:
1. Nurturing talent in Taiwanese language media broadcasting and mother tongue teachers 
2. Building the core values of Taiwanese literature
3. Inquiring into multicultural Taiwan
For Undergraduate Students:
1. Nurturing talent in Taiwanese language research, education and media broadcasting
2. Nurturing students' multifaceted comprehension of Taiwan literature, and providing guidance to adopt local, cross-cultural and international perspectives
3. Building understanding and appreciation of Taiwan's multicultural society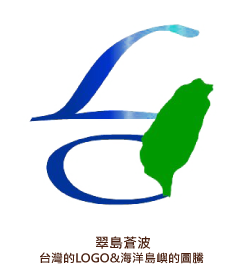 Designed by our founding chairperson, Professor Bān-siū, Tsng (莊萬壽) in October 2003, this logo symbolizes its theme on "The Green Island Amid Blue Seas–Taiwan's logo and the totem of this oceanic island." On the left side of the logo is the Han character "台" that comprises of one radical (口) and additional strokes(ㄙ), which are delicately transformed into roman characters of "L" and "C" and imbued with TCCL's feature—the integrated learning in language, Literature, and Culture. The "L" and "C" characters are painted blue to reflect the sapphire sea waves that embrace Taiwan, while the green Taiwan on the right side shows the vitality of this island.
Mailing Address: 162, He-ping East Road, Section 1, Da'an Dist., Taipei 106308, Taiwan
Location: 3F, 1, Yun-he Street, Da'an Dist., Taipei, Taiwan